NanoSiliCal Devices S.r.l. finalist to IMSA2018
NanoSiliCal Devices S.r.l. is on the short list for Italian Master Start-up Award – 2018 Edition (IMSA2018). The prize, substituting that named "Start-up of the year", was created in 2007 and it valorises on the national basis obtained results on the market of new Hi-Tech companies. PNICube organised award. It enlists the help of one of associated institutions hosting award ceremony. IMSA2018 has to give visibility to the young innovative companies both on the question of economic and on quality as main target. Moreover, PNICube aims to monitor obtained results with this prize by means of business plan competition and incubation activities performed by associated institutions and partners of them.
PNICube Association was created in 2004 for dealing with technology transfer from University or Research Institutes to innovative enterprises and it takes advantage of past expertise in project IUNET and in Innovation National Prize (PNI). IUNET was a Ministry for Productive Activities project founded in 2003 and managed by University Incubators Association, while PNI has been activated in the same year and it examined best enterprises winning projects of five different start cups, based on ideas from University sector. PNICube Association is governed by a Board comprised of representatives of 15 Italian associated universities. Among partners, one can find University of Pisa, Milan Polytechnic, University "Federico II" of Naples, University of Turin, University of "Tor Vergata" of Rome and University of Calabria, organizer institute of award ceremony IMSA2018.
Finalists of this year are 9, some of the most interesting strat-up of business landscape. NanoSiliCal Devices took a step in finals too. The enterprise is playing an important role among innovative companies in health field. NanoSiliCal has addressed pure research results towards real business idea, able to attract the interest of foreign investors and to have a ringside sit among applicant innovative EU research projects enterprises, as confirmed by recent excellence certificate issued by European Commission (Seal of excellence).
Award ceremony of IMSA2018 will be held in University of Calabria on  May 14. It will be a day completely devoted to valorisation of finalist business ideas. Companies will have at disposal stands to highlight their products and a temporal range of 5 minutes for each to present mission of enterprise, working team and business idea on which is based their development plan. NanoSiliCal Devices S.r.l. will have the possibility to engage in this competition using the usual dedication of working team, also against a strong completion of other start-up. Members of panel will be composed of six elements representing the entire chain of technological transfer from research to enterprises. In fact, Drs. Di Somma of "Grow it up", Dr Anselmo of IBAN, Dr. Mazzei of Fincalabra and Drs. Staziola of Unicredit will form the panel, besides Dr. Vincent of French Embassy and Drs. Aliberti of Dept. of International Trade (UK). In addition to IMSA2018, two special prizes will be assigned, issued by French and English Embassies. These awards will be as a springboards for winning enterprises and their products. This could be a real opportunity for NanoSiliCal to get to know across borders and to find useful and important collaborations with other French and English enterprises interested to its business idea.
http://www.pnicube.it/premio-italian-master-startup-award/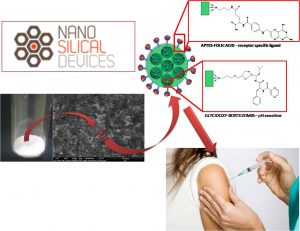 NanoSiliCal Devices Technology.